We think that a social network, whether Facebook or any other, is not a safe place for kids to be. However, we do acknowledge that kids need to communicate online, and in an increasing number of cases, parents just put up with their kids chatting over social networks: unfortunately, no one ever succeeded in creating a truly convenient and popular all-kids social network.
This is why we need to remind parents of all dangers awaiting kids in the social network environment and provide tips, which would help to ensure your child is as protected as possible. Social networks are the most dangerous part of the virtual world, full of all kinds of threats ever seen on the Internet.
Reputation damage, cyberbullying, pedophilia
These three issues are presented under a single 'umbrella': all of them are, in essence, 'social' threats, with risk levels to a high degree correlating to the kid's online behavior. First, let's see what those dangers are.
Pedophilia. It is, by far, the most self-explanatory term of all. Social networks are filled with people who seek ways to connect with children both virtually and in the physical world. It goes without saying that their interest is not innocent. As a rule, the more popular the network, the more inadequate people there are in it. Kids should be protected from such predators.
Cyberbullying. This term made a lot of headlines; in fact, Kaspersky Lab invested a lot of effort into widely publicizing this phenomenon and raising awareness amongst both parents and children. Cyberbullying is especially dangerous, due to the fact parents are not always informed about their child being cyberbullied. As in most cases, bullies get away with their actions, cyberbullying as a social phenomenon continues to propagate.
Reputation damage is not so obvious, if compared to the rest of dangers we discussed above. Hardly all parents and children fully acknowledge risks of the damaged reputation: it might reverberate through many years and resurface later, when children become adults. It might have a serious impact on both work and personal life in the future.
There are means of reducing those risks: one should follow these simple recommendations:
Explain to your kid they should not befriend anyone they don't know personally.
Apply adequate privacy settings, so your child's posts are visible only to him and his friends.
Be in a direct and sincere relationship with your child, ensuring they come to you with any problems and report all bullying incidents.
Keep your home address and phone in secret: this is not the kind of information you should keep on your child's page.
Make your kid understand one should not publish incriminating information online, such as explicit photos, confessions, photo and video reports from parties, etc. This information should by all means be private, even if your child considers it appropriate for all of his or her online 'friends'.
Create your own account on the social network, 'befriend' your child and consider hiding your friend list: children below certain age are not found through the search, yet are perfectly 'searcheable' through their parents' or teachers' friend lists.
Fraud, phishing, malware
One of the most serious online dangers is fraud. Under 'fraud' we mean any activities designed to lure your child into performing undesirable actions: clicking on a malicious URL or submitting user credentials of financial data.
This is a vital issue not only for kids but for adults as well; however, kids are easily tempted and are not always able to tell lies from truth, which makes them an easy target.
How is fraud performed on a social network? Usually, the cybercriminals use direct messages or posts containing a malicious or phishing link. Even with correct privacy settings, your child is not 100% safe from online threats: if one of his or her friends has account hijacked, such rogue messages can come from a trusted source.
Now, social networks are battling this issue, applying additional security measures to protect user credentials and trying to react really fast if they spot a malicious or phishing campaign. However, the efficiency of these measures is not high enough, so let us remind you basic rules of using social networks and Internet as a whole:
Never, under no circumstances, tell anyone your login credentials, passwords, credit card data and other personal information that might be used to access your online profiles and bank accounts. Even the service administration would never ask you for this.
Install antivirus on all connected devices and update it regularly.
Use all security recommendations provided by the social network: for example, add your mobile number to be able to restore password.
Explain to your kid that she or he should not click on external links. Every time a user tries to follow the external URL, a notification would appear, suggesting external links could be malicious. Your kid should follow this advise and return to the 'safe harbor'.
Before typing your login and password, make sure you are on a legitimate web page (check address in the address bar very carefully).
Inappropriate content
Social networks are full of content that might be inappropriate for your child. This is a serious issue, as almost all the content on the social networks is user-generated and is mostly not moderated. As a result, your child might come across porn, violence, and information on guns or drugs.
Just as a simple experiment, try to type 'sex' in the Facebook search bar. The top result would be a group full of porn videos. Finding websites devoted to marihuana or containing graphic violence and acts of cruelty is also a piece of cake.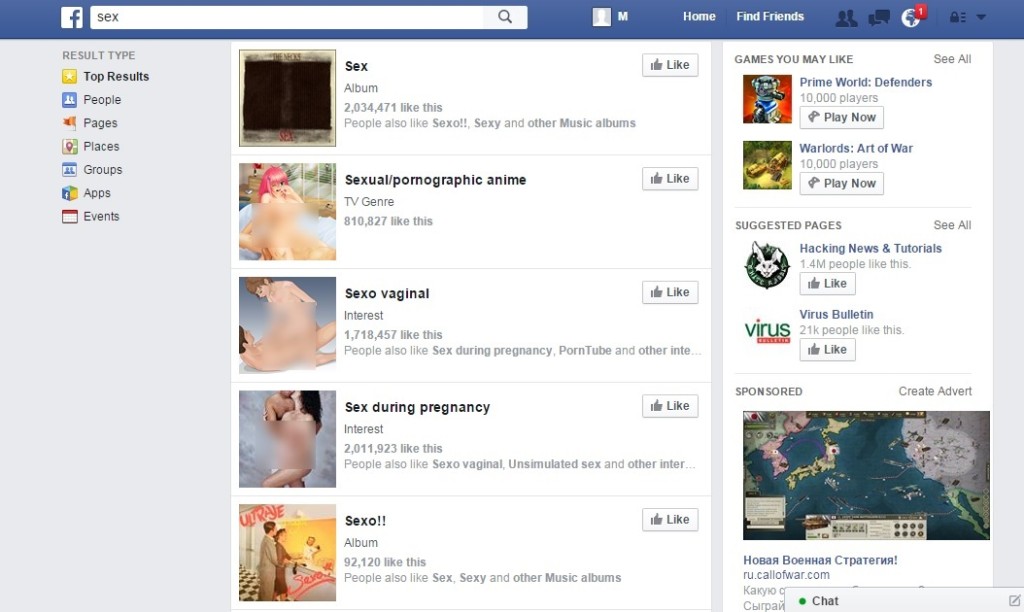 In order to make sure your kid does not stumble across such content, follow our recommendations:
First of all, talk more to your child and tell him, in a frank and sincere manner, that there's content which is not meant for his eyes and ears.
As a rule, try to monitor your kid's activity online and have open conversations whenever you find inappropriate websites or communities. Don't do it secretly, discuss the terms of your involvement beforehand.
Install and use parental control software which would block inappropriate pages on social networks.
Browser games
Social networks were initially meant for adults and thus their creators seek ways to monetize them. If you are a parent of a child who is very active online, you are not really happy about such tricks. First, social networks are monetized via social games which are abundant in any of them. In-app purchases is a bread and butter for developers and the majority of games are designed to make people spend real money.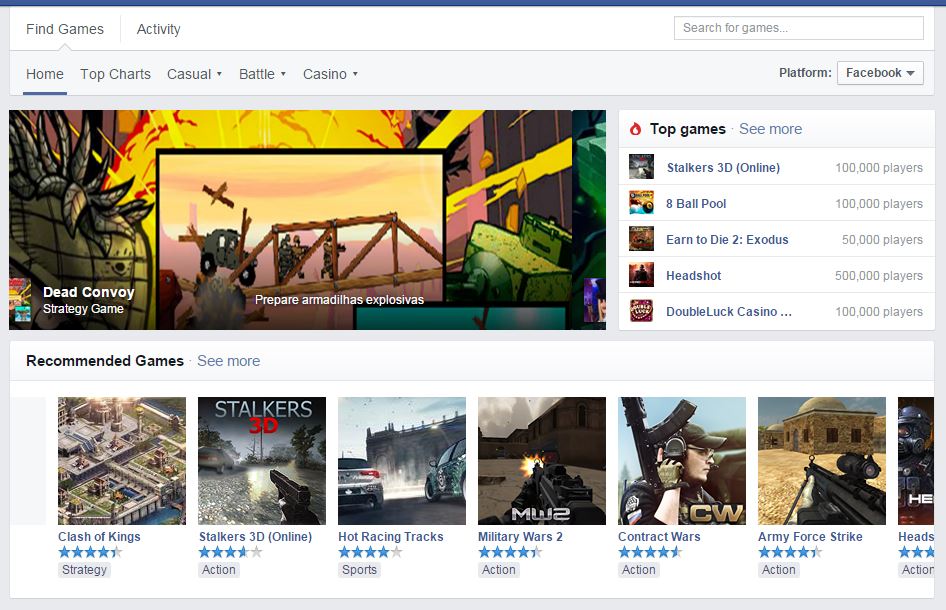 Second, social networks are filled with ads promoting everything, from shoes to MMORPG. Who knows what your child would like to spend money on?
To prevent your child from doing spontaneous purchases, just stick to these rules:
Educate your child. She / he needs to understand money is not made easily, and it's wrong to waste it on digital pics.
Don't give your child access to your credit card data and don't leave it lying around.