Earlier this year, the world witnessed the release of arguably the most sensational mobile game in years, Pokémon Go. While it was not immediately available in many countries at the moment of the launch, users found work-arounds to install the app on their devices and are now strolling down the streets in search of wild Pokémon.
Pokémon are  small creatures that were designed  in 1996 by Satoshi Tajiri, a Japanese game developer. They live in people's world. The game's call to action is friendship and responsibility to take care of those creatures that were tamed by players.
The game series from Nintendo inspired a cartoon series which earned massive fandom around the world.
There's incredible hype around the newest iteration of Pokémon. The internet is filled with all types of sites (entertainment websites, news, and social media) competing to post the  most news about the game – tips, tricks memes as well as real-world stories of people being put in awkward situations while playing the game.
There are a number of threats associated with the game, but my colleague Jeffrey Esposito already went into much detail on the matter in his 'Pokémon Go: collect them all, but with caution' post on Kaspersky Daily.
We decided to shed more light into the threats Pokémon Go could mean to kids.
Real threats for little Pokemon trainers
It's a fact that the launch of the game adds one more thing for parents to worry about: now, their concern is not just the addiction to the game, but also things that may happen while little Pokemon trainers are outside in their quest for Pokémon
Danger #1: let one's guard down in real life
At the very start of the game, there is a caution message displayed on the download screen, which instructs users to be aware of their surroundings while playing:
Just imagine you have to walk through a half of the neighborhood and use the satnav app to see where you are going – walking and constantly checking with the app to make sure you take all the right turns, thus being constantly destructed from your surroundings. How many times are you likely to stumble upon a pavement curb or forget to look out while crossing the street?
And now imagine fascinating creatures popping up here and there in your navigation app, and you have to 'catch them all.' That's essentially what the game is all about. Even a navigation app distracts you enough from staying alert of your surroundings, whereas it does not imply we should be fully immersed into the virtual world. However, the latter is exactly what Pokemon Go wants from the players.
For example, in order to catch a Pokemon, you may have track it. To track it, you need to look at the radar on the screen which shows how close you are to the Pokémon you seek. Now, multiply the necessity to constantly look at the screen by the thrill of the race, and you will understand that this game can make you lose your grip. But the world around you remains very real, with its very real dangers. There were cases where players got hit by a car while playing.
It should be noted, though, that the developers have thought of the way to solve this problem. Soon they plan to launch a special device (essentially, a Bluetooth wristband) which would vibrate to notify you of the events in the game. For example, it will let you know you are approaching a Poke Stop, or a battlefield for a Gym, or a Pokemon. Also, the latter could be caught by pressing a button on the wristband. These measures would ease the level of distraction and you won't have to constantly look onto display. However, these wearables would hit the shelves as of September, so the dangerous distraction would remain at least until that time.
Danger #2: Dangerous places
There are dangerous places in every city: abandoned houses, dark backstreets, or criminal neighborhoods. Being fully immersed in the game, a kid might wander to the place where not only rare Pokémon reside, but so do  bad people.
Besides, one might be in trouble without even having to go to dangerous places. In the US, one man fired a pistol at teens, who parked near his property at night to hunt Pokémon.
Somewhere strict measures are being introduced to prevent people from playing Pokemon Go in some inappropriate places.
All in all, one should understand some places are a no-go to catch Pokémon.
Danger #3: getting lost in real world
The thing is, the Pokémon Go map is a simplified version of Google maps, where streets and buildings are not marked. Even when taking precautions, a kid, deep in the game, might end up in a strange street and get lost.
Solution
As you know, parents don't like their kids to trade real world for virtual life, playing computer games non-stop. From this perspective, Pokémon Go is a blessing for parents: kids go outside to hunt for Pokémon, get items from PokeStops and battle with other players for Gyms. But kids remain as absorbed into the virtual reality as before, yet now they are playing outside.
So, parents would have to take care of their kid both in real and virtual world. There are programs designed to help parents take care of their kids' safety. For example, Safe Kids by Kaspersky Lab can track you kid's whereabouts while they play Pokémon Go.
To track your child, activate the 'Where is my kid?' feature in my.kaspersky.com account or via Safe Kids mobile app.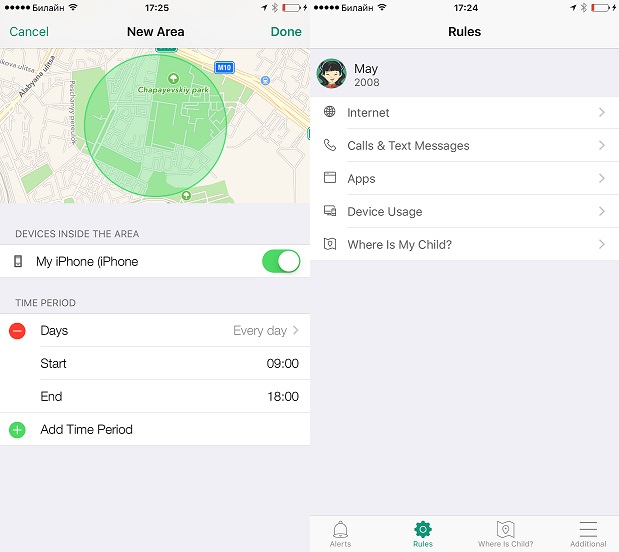 Set up your kid's location tracking in Rules — Where is my kid?
Then set a perimeter for your child's movements – for example, parks around your home (a number of Pokemons reside in parks) and set the time for tracking.
Now, when your kid leaves the perimeter, you will get a notification and see where they are: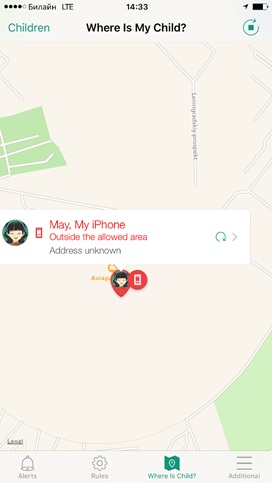 In terms of virtual gameplay, the game is safe for kids: it does not have any violence or cruelty. But the game's main advantage – ability to play outside – might be its main disadvantage. On the other hand, parents could set a perimeter where their kid might play Pokemon Go safely. Of course, it's up to you as parents to decide. We just want to make sure you are aware of all possible dangers and take necessary precautions.