Summer has almost come to an end, and with the weather cooling down, kids will soon abandon outdoor activities and return to their indoor virtual routine. This is an opportune time to make sure the security software protecting your child's PC and mobile device is as robust and reliable as ever. Many parents will ask: How do I do that? How can I know a security program fulfills my requirements as a parent?
There are three options. First, one can test various products and make a decision based on experience and test results. Second, one can check out how a company describes its product (not that any company would write bad things about the products they sell). The third option is the best choice for nearly everyone: Trust the results of independent benchmark tests run by IT media and other respectable organizations.
Our very own Kaspersky Safe Kids was tested in two independent benchmarks this summer and performed very well in both. Both tests measured how the product performed in filtering undesired URLs and also compared their feature sets.
On July 8, PC MAG published a review of Kaspersky Safe Kids and rated our product (for all platforms) "Excellent." Safe Kids also earned another sign of recognition — it's the new Editors' Choice among parental control products for iOS.
On July 27, AV-Test published the results of another independent benchmark: Our Safe Kids solution got the "AV-Test approved Parental Control" certificate. Only two products were considered worthy of such a high award. In five of eight categories, our solution showed the highest detection rate. Also, we outdid our closest competition in feature set richness.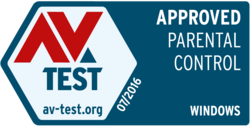 Both testing entities are highly reputable sources — and both are independent, with no stake in which products perform best.